The state of New Jersey has produced many famous people in all genres of profession. When it comes to jazz in New Jersey, Jeffrey Scott Lawrence has carved out his niche among piano jazz musicians. The passion and talent for bringing music to life comes from within the soul of an artist.
Getting to know Jeffrey
Keyboardist and Composer, Jeffrey Scott Lawrence, hails from Teaneck, NJ. He started playing the piano at the age of 10 and by his early teens he was playing in a variety of local bands as well as composing his own music. Soon piano jazz music was to be born in him.
He went on to study with jazz pianist Kenny Barron at Rutgers University in New Brunswick, NJ and this is where Jeffrey earned his BA in music. He has also played with several notable jazz musicians such as Jimmy Heath, Dave Liebman, Terence Blanchard, Frank Lacy, and others.
Lawrence made his CD debut with the band Aka Alias on the album entitled, Uncivilized Poise in 1999. The band was founded and led by bassist Brad Jones, a longtime friend and musical associate. Inspired by the taste of being heard on a published CD, Jeffrey did not stop there.
Personal achievements of Jeffrey Scott Lawrence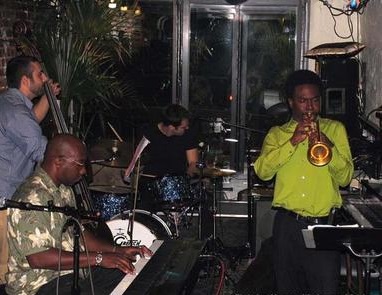 Within two years after Aka Alias, Jeffrey founded and led a band called the jteam in 2001. They performed in the New York and New Jersey area for several years. The jteam recorded one CD album with 9 songs entitled Introducing the jteam, in 2003. Again, Jeffrey did not stop there.
Lawrence had more milestones to accomplish and in 2009 he released his first 4-song CD entitled Demo, as he established himself as a solo artist. This was the start of bigger and better things. With an ensemble of 16 songs he released his largest to date CD album entitled Groove Related in 2010. Then two years later in 2012 came the 7 song CD album Blues for Erica, followed by the CD single Bubble Fantasy in 2014. Jeffrey's love for jazz is evident in his music, which you can listen to here.
Currently he enjoys pursuing the writing and recording of his music and this website, JeffreyScottLawrence.com, is another endeavor to get to know the man and experience the sound of his music. Take a look around, read the blogs on my CD releases above, check my calendar for upcoming events, and follow me on social media.